NEWS RELEASE
---
---
---
---
DIELECTRIC COMMUNICATIONS AWARDED
MAJOR ANTENNA ORDER FROM
LIN TELEVISION

RAYMOND, MAINE August 28, 1995 - Dielectric Communications has received a major order for four antenna systems from LIN Television Corporation. LIN is one of the nation's largest television group owners.
Dielectric will design and supply antennas and transmission line components to VHF television stations WTNH Ch. 8, New Haven, CT, and WAVY Ch. 10, Portsmouth, VA as well as equipment for two other UHF stations.
These VHF systems are specifically designed to accommodate a future top mounted HDTV antenna and include custom "stacked" Circularly Polarized Antennas. Over 5000 feet of feedline components will be supplied for the four projects consisting of Dielectric 6" and 8" transmission line and Dielectric rectangular waveguide.
Joe Zuba, Dielectric Director of Sales & Marketing explains that Dielectric's experience with HDTV adaptable antenna systems, circularly polarized antennas, and high power products were the factors on which Dielectric was awarded this significant order.
Dielectric C:ommunications, based in Raymond, Maine, is the nation's largest manufacturer of TV and FM broadcast Antennas, Transmission Line and RF components, and is a world leader in broadcast transmission system design and manufacture.
Contact: Connie Eldridge
Marketing services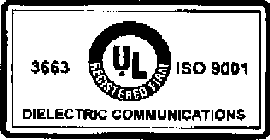 Dielectric Communications
A Unit of General Signal
Raymond, ME
TEL 207-655--4555
FAX 207-655-7120


Return to Doug Lung's R. F. Page

---
Created September 4, 1995 by Doug Lung dlung@gate.net
Copyright © 1995 H. Douglas Lung