---
FOR IMMEDIATE RELEASE
For further information:
Rob Dumbrille
Norpak Corporation
613-592-4164
NAB 96 Booth #8175
Las Vegas Convention Center (S-5)
NORPAK INTRODUCES NEW DATA BROADCAST TECHNOLOGY
-------
World's First Multi-standard Vertical Blanking Interval (VBI) Encoder

Allows All Broadcasters to Offer Data Services to Businesses and Consumers
OTTAWA, Ontario, 4 January 1996 -- Norpak Corporation today announced the introduction of its newest VBI data transmission product, the TES3 Multi-standard VBI Encoding Platform.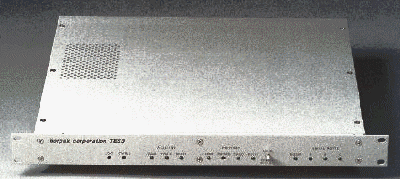 This flexible low cost device is designed to take digital data and insert it in the vertical blanking interval of any standard television signal. The TES3 can format and insert data in any VBI format, including NABTS, WST, Line 21 Closed Captioning, AMOL, and any other non-standard/proprietary schemes. In addition, it will operate in any broadcast environment (NTSC, PAL, SECAM, 525 Line and 625 Line) and any country AC power standard, making this the firstworld-capable encoder.
Norpak software modules are loaded in the factory or remotely through the built-in modem to enable the various modes. In data broadcast mode, the TES3 will accept multiple data streams, containing such information as electronic publishing or stock quotes, from a PC or modem and multiplex it onto the vertical blanking interval of a TV channel. The TES3 will perform all formatting, basic addressing and error correction. The data then travels with the television signal and can be received at an unlimited number of sites using a Norpak PC-based data receiver. Data can be transmitted at speeds up to 115,200 bps.
In addition to high speed data broadcast, the TES3 can also be configured for several other applications. For data bridging and standards conversion the TES3 will take all or selected data from the vertical blanking interval of one TV channel and re-insert it into the VBI of another channel, in a different video standard and/or VBI format if required. In this way, Captioning and high speed NABTS data on a NTSC signal can be converted to Captioning and WST data on a PAL signal or vice versa. The TES3 will also perform Line 21 Closed Captioning in NTSC, PAL and SECAM systems. With the Test Encoder software module, the TES3 becomes a general purpose VBI testing unit for use in research and production line settings. The TES3 is also being used as the data delivery component of the Intercast initiative from Intel. Depending on the configuration and quantity the TES3 is priced as low as $3,200 US.
"With Norpak's new advanced insertion technology, broadcasters and service providers around the world can now use the same device for all their VBI transmission requirements, from high speed data broadcasting to Closed Captioning," said Jim Carruthers, president, Norpak Corporation. "Never before has so much flexibility and power been combined in one low cost product."
Norpak Corporation, based in Kanata, Ontario, is the industry leader in the engineering and manufacture of vertical blanking interval data transmission products. Norpak has shipped more than 900 VBI systems, and has equipment installed world-wide.
---
Norpak Home Page
---
Return to The RF Page @ www.transmitter.com