What is RF and why does it have a Web page?
---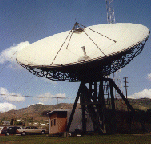 Radio Frequency (RF) waves are the means by which almost all wireless communication takes place - TV, radio, cellular phone, cordless phone or two-way radio.
I created this site as a resource to my fellow TV engineers and readers of my RF Technology Column in TV Technology magazine. Take time to browse through this site, the hop over to RF Links to explore other sites I've found interesting.
Information here will be rather technical, although I am willing to post some tutorials on RF if enough people are interested. For non-technical information on TV shows, production and news I recommend TVnet Check it out!
Detailed Index to the RF Page
As part of my work at Telemundo, I track actions at the F.C.C. and developments in technology. As my time permits, I'll be making that information available here with comments and, where possible, links to the source. I also plan to add some editorial comment, with focus on the future of broadcasting.
I created this page to hold information about the RF Page and tips on how to best use it.
From readers' comments this is one of the most popular sections of the RF Page. Here you'll find lists of organizations, regulatory agencies, manufacturers, publications, tutorials and more related to broadcast technology. For a change of pace, I've included some "Just for Fun" links to other interesting sites.
Over the years I've written a number of programs (PC / DOS) and spreadsheets for my own use and to illustrate items in my TV Technology RF Column. They're all here and you can download them using your Web browser to access my FTP site.
One of the frustrations of writing a monthly column is that it is often impossible to get items into print quickly. Manufacturers send me press releases, but by the time they would appear in print, the same information would usually appear elsewhere in TV Technology. This page contains any relevant press releases I've received. If your company has a broadcast technical related press release, contact me for information on where to send it for inclusion here. If you can send an HTML formatted document, I can probably get it posted within hours of receipt.
Back issues of my RF Column from TV Technology magazine. Note that I don't intend to compete with TV Technology, so only issues that have been published over a month ago are here. Graphics and photos are included when possible. These are currently stored at my FTP site, which has a limit on the number of users at a given time. I've provided an HTML interface, so you can view and download them using your Web browser. I have plans to make them available in HTML format sometime in 1996.
The broadcast industry will change in the next decade as the FCC plans to shift TV broadcasting from analog to digital transmission. As part of this shift, new channels will be needed for the digital signal. This page contains the full preliminary draft channel allocation plan submitted to the F.C.C. by the Association of Maximum Service Telecasters and endorsed by the broadcast industry. The short listing will fit on an 80 column screen, the long listing contains all technical details available in the filing. As far as I know this is the only source of this information on the Internet.
Return to Doug Lung's R. F. Page

---
Created November 5, 1995 by Doug Lung dlung@gate.net
Photo of WKAQ's 13 meter earth station in Puerto Rico by Doug Lung
Copyright © 1995 H. Douglas Lung